Contents
About NanoVNA V2
NanoVNA V2 (S-A-A-2) is a high performance 4GHz vector network analyzer developed by NanoRFE/HCXQS in collaboration with OwOComm. It can measure antennas, filters, duplexers, and amplifiers. The V2 hardware is a new from-scratch design and is not based on the earliest V1 NanoVNA, which is no longer sold by its original developer edy555 and has only clones available. Compared to earlier low cost VNAs, V2 does not use harmonics for measurements and achieves higher measurement repeatability.
The V2 Plus4 is the latest NanoVNA version with >90dB dynamic range. It has a frequency range covering common cellular and Wi-Fi bands, as well as HF, VHF, and UHF amateur radio bands.
The main improvements in NanoRFE's NanoVNAs are:
Less temperature drift due to automatic internal calibration that corrects for drift errors
Improved shielding and all-aluminum enclosure of the NanoVNA V2 Plus4 increases its practical dynamic range to >90dB, achieving similar results as professional VNAs, and allows measuring duplexers.
Lowest measurement noise due to using RF rated parts and careful tuning of each device. V2 Plus4 Pro improves signal to noise ratio further by an adjustable IF filter and reaches higher dynamic range at lower averaging.
S parameters export, custom calibration kit parameters & advanced calibration methods (NanoVNA-QT software)
TDR (time domain reflectometry) allows measuring cable length and discontinuities.
Sold and maintained by original developers, ensuring good performance, quality control, and continued updates.
Large touchscreen, can be used standalone or with a PC.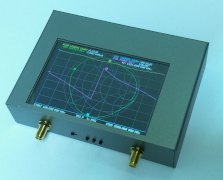 Where to buy
Official stores
Safe places to buy an original NanoVNA V2:
As of September 2022 there are many clones with exaggerated specs sold under various names on Aliexpress and Amazon, which perform poorly and are highly noisy due to using incorrect or lower quality parts, while using measurements and graphs copied directly from our documentation to deceive unaware customers. Only V2 Plus4 and VNA6000 versions are safe to buy, all else are clones!
Beware that nanovna .com is not owned by the original developers of either V1 or V2 NanoVNAs, and is being used to mislead users into buying clones from one clone manufacturer. These clones are not supported by any updates from the developers.
Achievable performance (genuine V2 Plus4 Pro, calibrated, IFBW=0.8kHz, AVG=20)
Measurement comparisons
Several users have tested clones of the NanoVNA V2 design, some claiming higher specifications than the original. We also checked out a few clones ourselves. The clones are based on earlier designs intended for either 1GHz or 3GHz, and some have tried to extend the frequency range using harmonics without understanding the design. Furthermore, none of the clone sellers seem to understand the role of the high frequency components and have substituted generic parts, which worsened the trace noise noticeably.
The performance of the NanoVNA V2.2 clones start to degrade before 2GHz, and would not have passed our standard QC requirements for the earliest 3GHz V2.2 version:
Note: the above plots are uncalibrated to show the amount of noise of the raw data from the hardware.
It is likely that the clone sellers measure dynamic range based on the lowest instead of highest data point of the noise floor, so actual practical dynamic range is 20-30dB lower than claimed.
Some NanoVNA clones use harmonics to exaggerate the frequency range, which gives wrong measurements because the strong fundamental signal at the receiver creates interference at the harmonic frequency, giving a stable but incorrect measurement. These clones usually come in a plastic enclosure to save cost.
If you need a VNA with higher frequency capability, see VNA6000.
All clones are based on the older V2.2 design, which if replicated well can only reach 60dB dynamic range @ 3GHz. Any clones advertising higher performance are exaggerating the specifications and likely perform worse.
The following stores have sold at least one bad clone.
Banggood
Eleshop
R&L electronics - still selling clones despite being asked not to by the original developers
Note: Hugen/Zeenko is not an authorized supplier of NanoVNA V2 devices, and is selling S-A-A-2/NanoVNA V2 based designs without permission and in violation of our non commercial license after being asked by the original developers not to. Please be aware that there is no support or updates for these hardware versions, which run an outdated firmware that has been modified to exaggerate specs such as frequency range at the expense of measurement accuracy.
Comparisons with professional VNAs
Many users have compared the NanoVNA V2 Plus4 with professional instruments. When using the same calibration kits and up to the dynamic range limit, the measured data and smith chart matches well. Some differences are visible as the dynamic range is approached and noise becomes noticeable.
Here is one blog post from AE5X comparing it with a FieldFox:
https://ae5x.blogspot.com/2021/07/1-to-4-ghz-nanovna-2-plus4-vs-keysight.html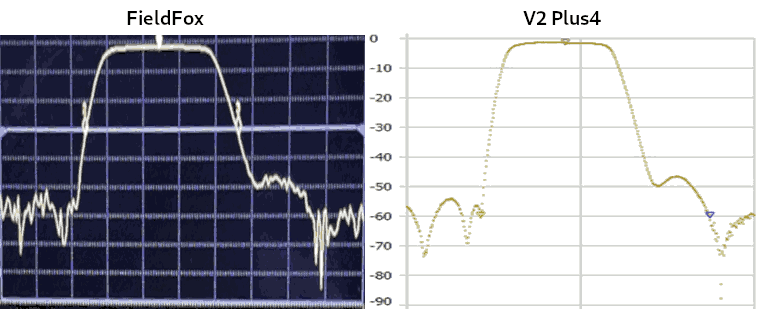 DD1US compared it with a HP-8753E:
https://www.dd1us.de/Downloads/Brief comparison of NanoVNA V2 with a professional VNA HP-8753E.pdf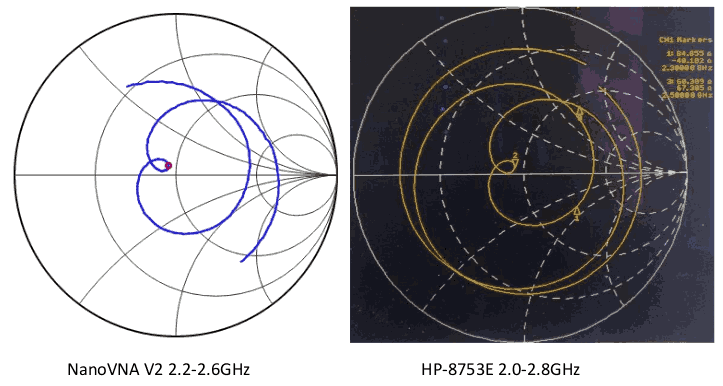 To get an idea of what kind of measurement noise is achievable, here are some sample measurements we made of a cascaded SAW filter and a power amplifier using a NanoVNA V2 Plus4 (click the images to view them at full size):
Note that some averaging is needed to get the NanoVNA V2 Plus4 to near 100dB dynamic range.
User groups / Forums
Discussion forum
https://groups.io/g/NanoVNAV2
This is the only official NanoVNA V2 users group. Be careful and note the URL is NanoVNAV2.
Facebook
https://www.facebook.com/nanovnav2/
How to use NanoVNA V2
VNA basics
A VNA (Vector Network Analyzer) measures the frequency dependent reflected and transmitted power of a high frequency network (RF Network).
The NanoVNA measures the following:
Reflection coefficient: S11
Transmission coefficient: S21
Using the above measured data, the NanoVNA can calculate the following items:
Return loss
Insertion loss
Complex impedance
Resistance
Reactance
SWR
Required components
To use the NanoVNA for one port measurements (e.g. analyzing antennas), you will need the following:
NanoVNA main unit
SMA coaxial cable, male to male
SOLT calibration kit: Short, Open, and Load
Performing measurements
The basic operation and menu structure of V2 is very similar to the original NanoVNA.
Configure the measurement frequency range:

Select STIMULUS > START and STIMULUS > STOP.

Calibrate:

Enter the CAL menu and connect a SMA male to male cable to the NanoVNA port 1.
Connect the OPEN standard to the cable and select the menu item "OPEN". Wait for the menu to highlight.
Connect the SHORT standard to the cable and select the menu item "SHORT". Wait for the menu to highlight.
Connect the LOAD standard to the cable and select the menu item "LOAD". Wait for the menu to highlight.
Select "APPLY". The calibration is now active and you can start performing measurements.
Note: on NanoVNA V2 Plus4 and later hardware, isolation calibration is automatically done during OPEN and LOAD steps, and there is no separate ISOLATION calibration step.
For a more detailed description of the calibration methods and measurement options available in the NanoVNA V2, please refer to the user manuals below.
Documentation
User manuals
Menu maps
Firmware downloads
For firmware releases go to the Hardware versions page which lists the latest stable firmware builds for each NanoVNA hardware variant.
There are also experimental firmware releases at downloads.
Firmware sources are at https://github.com/nanovna-v2/NanoVNA2-firmware
Software
See Software downloads.
Specifications
The following are the specifications of NanoVNA devices manufactured by HCXQS/NanoRFE.
Beware of clones using lower quality or salvaged parts.
Parameter

Board version

Specification

Conditions

Frequency range

V2_2, V2 Plus

50kHz - 3GHz

-

V2 Plus4,
V2 Plus4 Pro

50kHz – 4.4GHz

-

Frequency resolution

All

0.01MHz

-

System dynamic range
(calibrated)

V2_2, V2 Plus

60dB

V2 Plus4

90dB

AVG=20, 1GHz

V2 Plus4 Pro

90dB

BW=1.6kHz, AVG=5, 1GHz

96dB

BW=1.6kHz, AVG=20, 1GHz

S11 noise floor
(calibrated)

All

-50dB

f < 1.5GHz

-40dB

f < 3GHz

Sweep points

V2 Plus4

1 – 1024 points (with NanoVNA-QT software). More points (up to 65535) are possible depending on the performance of your PC.

-

Sweep time

V2 Plus4

0.25s

Default sweep settings

V2 Plus4 Pro

0.16s

Default sweep settings
BW=10kHz

Power supply

All

USB, 4.6V – 5.5V

-

Supply current

All

500mA typ

No charging

Battery current, charging

All

1.2A typ

-

Battery capacity

V2 Plus4,
V2 Plus4 Pro

3200mAh

-

Operation ambient temperature

All

0℃ - 45℃ *

* by design, not tested in production

Ambient temperature during battery charging

All

10℃ - 45℃

-
Note: NanoVNA V2 Plus4 Pro now allows measuring crystals by an adjustable bandwidth setting. All other hardware versions can not measure crystals because of the rapid switching of the test signal.
Schematics and PCB layout
The schematics and PCB layout files of the V2.2 version are available here:
https://github.com/nanovna-v2/NanoVNA2
The NanoVNA V2 design is licensed under CC-BY-NC-SA and commercial use without specific permission is forbidden. You need to obtain specific written permission every 3 months to sell hardware using this design.
V2.3 and V2.4 designs are confidential and proprietary, and reverse engineering is forbidden.