About NanoVNA V2
Table of contents
NanoVNA V2 (S-A-A-2) is a low cost 4GHz T/R vector network analyzer developed by HCXQS in collaboration with OwOComm. The V2 hardware is a new from-scratch design and is not based on the earliest V1 design from edy555. Compared to earlier NanoVNA versions, V2 does not use harmonics for measurements and achieves higher dynamic range.
The V2 Plus4 reaches >90dB dynamic range and can measure duplexers (see comparisons below).
Users group and discussion forum
groups.io/g/NanoVNAV2
This is the only official users group. Be careful and note the URL is NanoVNAV2.
Where to buy
Only HCXQS and NanoRFE support the original developers.
As of November 2021 all non-Plus/Plus4 hardware are clones (we have stopped producing V2.2 versions since October 2020), many of which perform badly, and users have reported software/firmware incompatibility. See official stores below and look for Plus/Plus4 versions only to avoid getting a bad clone. See FAQ | How to avoid a bad clone.
All board revisions before Plus4 are not compatible with a metal enclosure, which worsens dynamic range by 10dB at 3GHz. All original NanoVNA V2 devices before Plus4 use an acrylic or 3D printed enclosure, and only Plus4 has improved shielding that achieves high dynamic range with a metal enclosure.
Official stores:
The following stores are selling illegal clones.
The clones sold by these vendors do not have permission from the original developers and are violating the non-commercial license of the design (CC-BY-NC-SA).
Banggood
R&L electronics - still selling clones despite being asked not to by the original developers
Important: Zeenko is selling S-A-A-2 based designs without permission and in violation of our non-commercial license, with exaggerated specifications. The original V2_2 design was open sourced to help hobbyists learn, but Zeenko's actions force us to close source later designs. Please reconsider supporting this vendor.
Noise comparison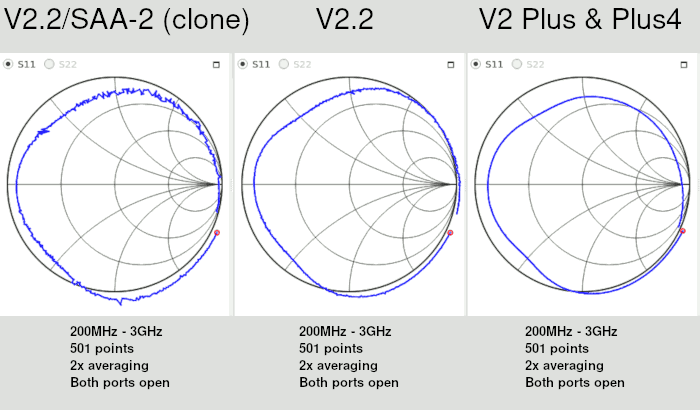 Accuracy comparison
https://ae5x.blogspot.com/2021/07/1-to-4-ghz-nanovna-2-plus4-vs-keysight.html
Sample measurements (V2 Plus4)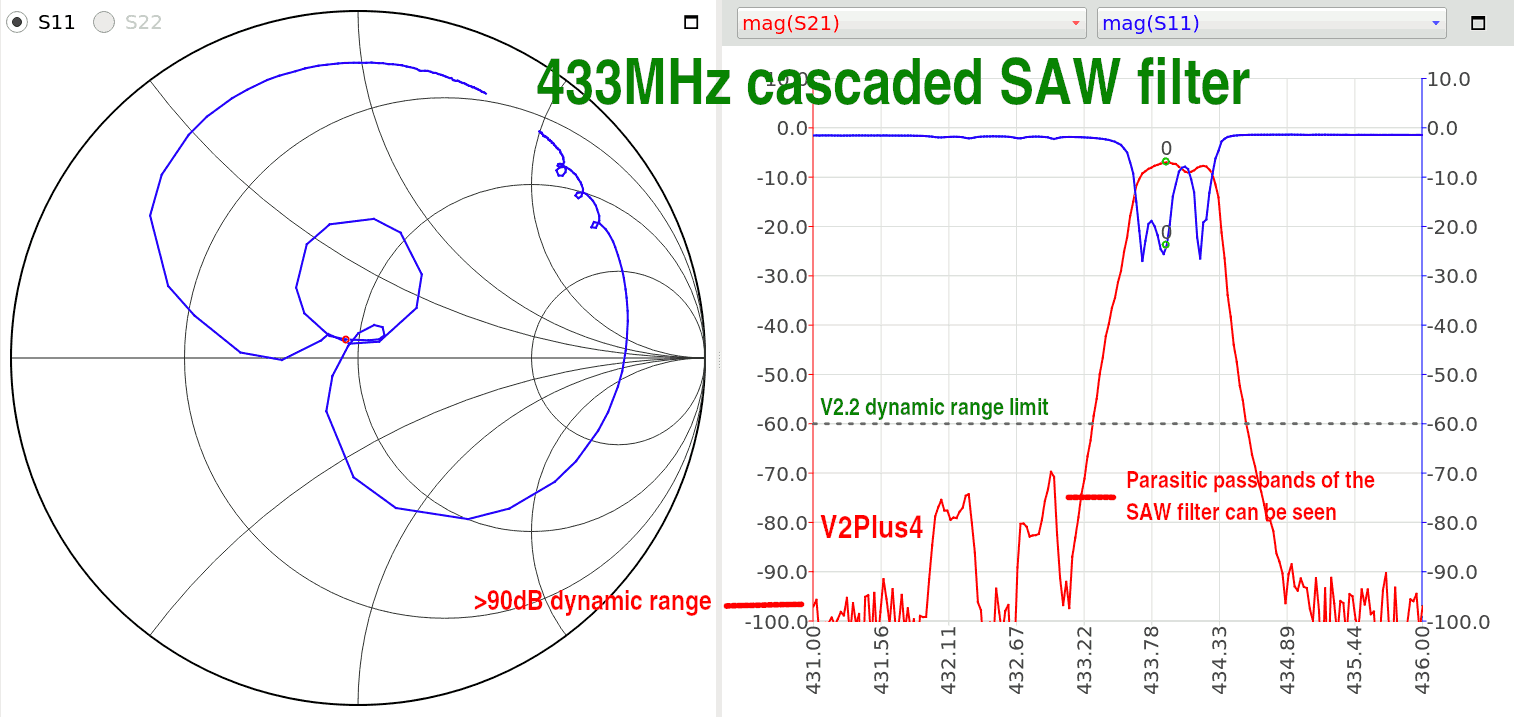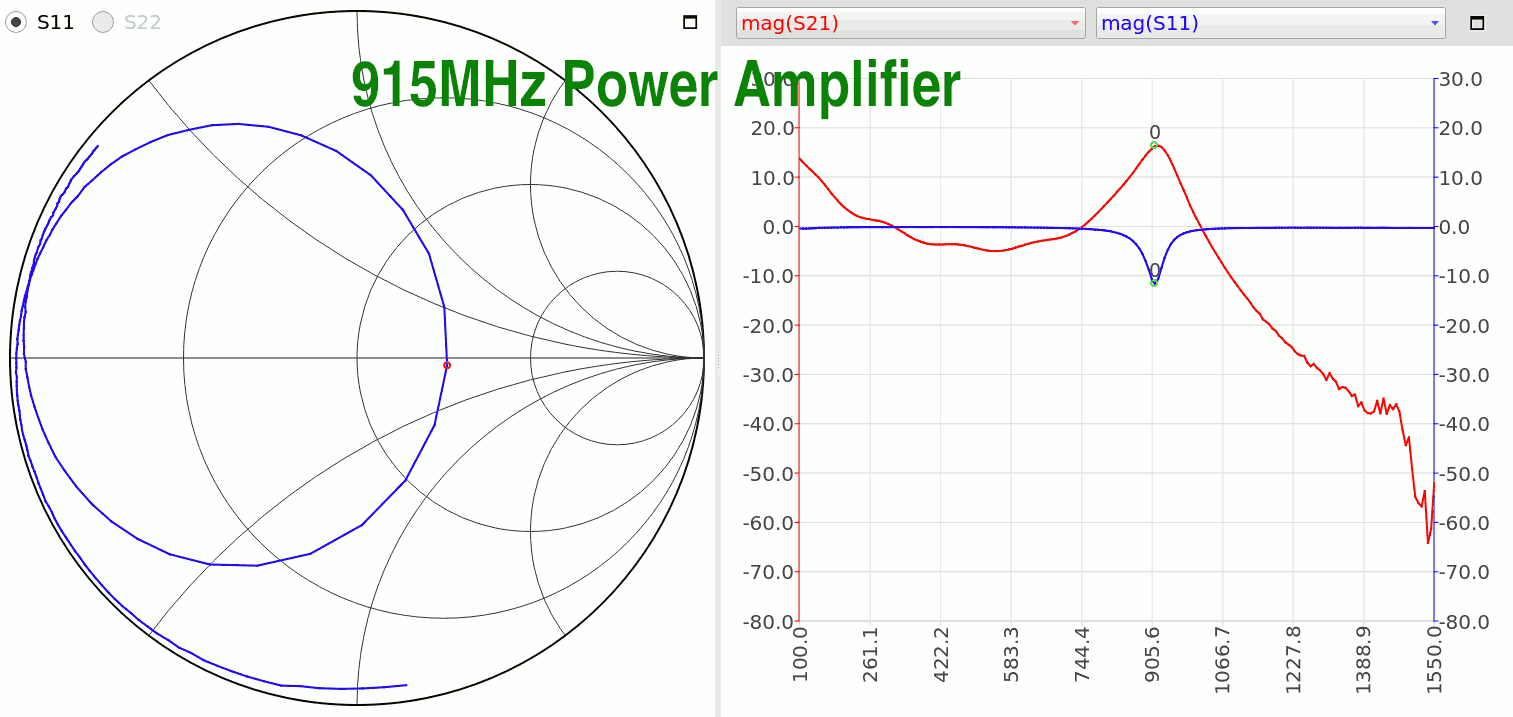 User groups / Forums
Discussion forum
https://groups.io/g/NanoVNAV2
This is the only official users group. Be careful and note the URL is NanoVNAV2.
Facebook
https://www.facebook.com/nanovnav2/
Discord
https://discord.gg/mF8AZrY
Specifications
The specifications below apply only to devices manufactured by HCXQS or NanoRFE.
Beware of cheap clones that use salvaged or reject parts which do not meet specifications.
Parameter

Board version

Specification

Conditions

Frequency range

V2_2, V2 Plus

50kHz - 3GHz

-

V2 Plus4

50kHz – 4.4GHz

-

Frequency resolution

All

10kHz

-

System dynamic range
(calibrated)

V2_2, V2 Plus

70dB

f < 1.5GHz

60dB

f < 3GHz

V2 Plus4

90dB

f < 1GHz
IFBW=40Hz (20xAVG)

80dB

f < 3GHz
IFBW=160Hz (5xAVG)

70dB

f < 3GHz
IFBW=800Hz (1xAVG)

S11 noise floor
(calibrated)

All

-50dB

f < 1.5GHz

-40dB

f < 3GHz

Sweep points

All

1 – 1024 points (with NanoVNA-QT software; 10-201 on device display).

Note: beware of clone unofficial firmware using calibration interpolation which compromises accuracy, especially when calibrating with test cables.

-

Sweep rate

V2_2

100 points/s

f >= 140MHz

80 points/s

f < 140MHz

V2 Plus

200 points/s

f >= 140MHz

100 points/s

f < 140MHz

V2 Plus4

400 points/s

f >= 140MHz

200 points/s

f < 140MHz

Power supply

All

USB, 4.6V – 5.5V

-

Supply current

All

400mA typ, 500mA max

No charging

Battery current, charging

All

1.2A typ

-

Battery capacity

V2_2

V2 Plus

User defined

-

V2 Plus4

3200mAh

-

Operation ambient temperature

All

0℃ - 45℃ *

* by design, not tested in production

Ambient temperature during battery charging

All

10℃ - 45℃

-
Note: All V2 versions switch on and off the test signal rapidly and can not measure crystals or be used as a signal generator. See FAQ. A special firmware build for the V2 Plus4 that can measure crystals is posted here: https://nanorfe.com/forum/V2-Plus4-firmware-for-measuring-crystals.html
Accuracy comparison between NanoVNA V2 and HP-8753E by DD1US
Basic usage
NanoVNA V2 Video Tutorials
VNA basics
A VNA (Vector Network Analyzer) measures the frequency dependent reflected and transmitted power of a high frequency network (RF Network).
The NanoVNA V2 measures the following:
Reflection coefficient: S11
Transmission coefficient: S21
The following items that can be calculated from these can be displayed:
Return loss
Insertion loss
Complex impedance
Resistance
Reactance
SWR
Required components
To use the NanoVNA V2 for one port measurements (e.g. antenna impedance), you will need the following:
NanoVNA V2 main unit
SMA cable, male-male
Calibration standards: Short, Open, and Load
Performing measurements
The basic operation and menu structure of the NanoVNA V2 is very similar to the original NanoVNA.
Configure the measurement frequency range:

Select STIMULUS > START and STIMULUS > STOP.

Calibrate:

Enter the CAL menu and connect a SMA male-male cable to port 1 of the VNA.
Connect the OPEN standard to the cable end and select "OPEN". Wait for menu highlight.
Connect the SHORT standard to the cable end and select "SHORT". Wait for menu highlight.
Connect the LOAD standard to the cable end and select "LOAD". Wait for menu highlight.
Select "APPLY". Calibration should now be active and you can start performing measurements.
Documentation
User manuals
Menu maps
Firmware downloads
For firmware releases go to the Hardware versions page which lists the latest stable firmware builds for each hardware variant.
There are also experimental firmware releases at downloads.
Firmware sources are at https://github.com/nanovna-v2/NanoVNA2-firmware
Software
There are two PC programs compatible with the S-A-A-2. NanoVNA-QT is the native V2 software and allows adjustable sweep points and firmware updating. NanoVNA-Saver was originally developed for the V1 NanoVNA but now also has support for V2.
Download
See Software downloads page.
NanoVNA-QT source code:
https://github.com/nanovna/NanoVNA-QT
Schematics and PCB layout
The schematics and PCB layout files are available here:
https://github.com/nanovna-v2/NanoVNA2
The design is licensed under CC-BY-NC-SA and commercial use without specific permission is forbidden. You need to obtain specific written permission every 3 months to sell hardware using this design.