About NanoVNA V2
Table of contents
NanoVNA V2 is a low cost 3GHz T/R vector network analyzer designed by HCXQS in collaboration with OwOComm. The V2 hardware is a new from-scratch design and is not based on the original NanoVNA by edy555. Compared to the original NanoVNA, V2 does not use harmonics for measurements and achieves higher dynamic range.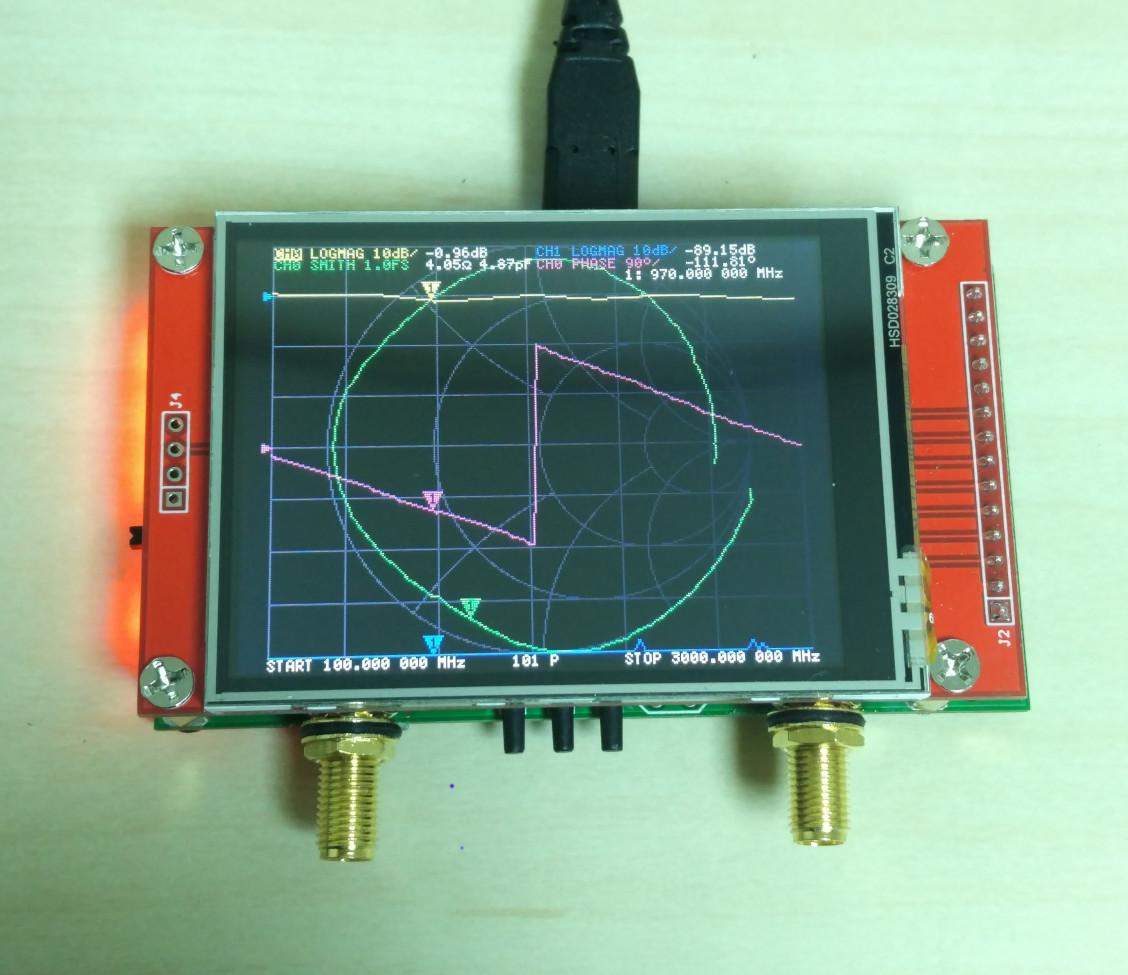 Buying
There are several manufacturers of the V2 and resellers on Aliexpress, Tindie, Taobao, and eBay. Performance varies.
Official stores:
Current Aliexpress sources that are known to sell original units (subject to change):
See: https://groups.io/g/NanoVNA-V2/topic/nanovna_v2_ownership/75175883
Note that OwOComm does not manufacture V2 devices and does not provide direct technical support. All support enquiries should be posted on the nanovna-v2 users forum.
Specifications
Frequency range: 50kHz - 3GHz
System dynamic range (calibrated): 70dB (up to 1.5GHz), 60dB (up to 3GHz)
S11 noise floor (calibrated): -50dB (up to 1.5GHz), -40dB (up to 3GHz)
Sweep rate: 80-100 points/s
Display: 2.8'', 320 x 240
USB interface: Micro USB
Power: USB, 300mA
Battery: not included. Includes charging circuitry. User can install a 1000mAh - 2000mAh lithium-ion battery with maximum dimensions 6 x 40 x 60 mm.
Battery connector: JST-XH 2.54mm
Maximum sweep points (on device): 201
Maximum sweep points (USB): 1024
Port 2 return loss (1.5GHz): 20dB typ
Port 2 return loss (3GHz): 13dB min
VNA-QT software supported platforms: Linux, Windows (7+), Mac OS
Basic usage
VNA basics
A VNA (Vector Network Analyzer) measures the frequency dependent reflected and transmitted power of a high frequency network (RF Network).
The NanoVNA V2 measures the following:
Reflection coefficient: S11
Transmission coefficient: S21
The following items that can be calculated from these can be displayed:
Return loss
Insertion loss
Complex impedance
Resistance
Reactance
SWR
Required components
To use the NanoVNA V2 for one port measurements (e.g. antenna impedance), you will need the following:
NanoVNA V2 main unit
SMA cable, male-male
Calibration standards: Short, Open, and Load
Performing measurements
The basic operation and menu structure of the NanoVNA V2 is identical to the original NanoVNA.
Configure the measurement frequency range:

Select STIMULUS > START and STIMULUS > STOP.

Calibrate:

Enter the CAL menu and connect a SMA male-male cable to port 1 of the VNA.
Connect the OPEN standard to the cable end and select "OPEN". Wait for menu highlight.
Connect the SHORT standard to the cable end and select "SHORT". Wait for menu highlight.
Connect the LOAD standard to the cable end and select "LOAD". Wait for menu highlight.
Select "APPLY". Calibration should now be active and you can start performing measurements.
User manual
A detailed user guide is available here:
https://github.com/nanovna/NanoVNA-QT/blob/master/ug1101.pdf
Software
NanoVNA V2 firmware releases:
https://github.com/nanovna/NanoVNA-V2-firmware/releases
NanoVNA-QT (PC software) releases:
https://github.com/nanovna/NanoVNA-QT/releases
NanoVNA Saver:
https://github.com/zarath/nanovna-saver
Support
For technical support please use the nanovna-v2 forum: