About NanoVNA V2
Table of contents
NanoVNA V2 is a low cost 3GHz T/R vector network analyzer developed by HCXQS in collaboration with OwOComm. The V2 hardware is a new from-scratch design and is not based on the original NanoVNA by edy555. Compared to the original NanoVNA, V2 does not use harmonics for measurements and achieves higher dynamic range.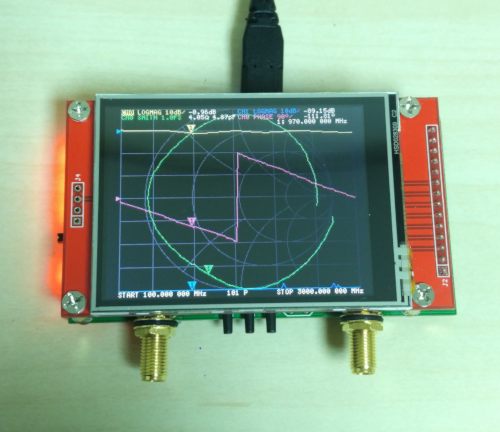 Buying
HCXQS is the official manufacturer of the S-A-A-2 (NanoVNA V2), and is the only manufacturer that fund the development team.
As of September 2020 most Aliexpress sellers are selling clones, some of which perform badly, and some users have reported incompatibility with the official firmware. See Hardware Versions.
Official stores:
Official store on Taobao (NanoVNA V2 唯一官方淘宝店)
Note that OwOComm does not manufacture V2 devices and does not provide direct technical support. Please use the above support forum or click "Contact Seller" on the Tindie page.
User groups/Forums
NanoVNA V2 discussion and support forum
Facebook: https://www.facebook.com/nanovnav2/
Discord: https://discord.gg/DUH5Xk5
Specifications
Frequency range: 50kHz - 3GHz
System dynamic range (calibrated): 70dB (up to 1.5GHz), 60dB (up to 3GHz)
S11 noise floor (calibrated): -50dB (up to 1.5GHz), -40dB (up to 3GHz)
Sweep rate: 200 points/s (140MHz and above), 100 points/s (below 140MHz)
Display: 2.8", 320 x 240
USB interface: Micro USB
Power: USB, 300mA. 1A when charging.
Battery: not included. Includes charging circuitry. User can install a 1000mAh - 2000mAh lithium-ion battery with maximum dimensions 6 x 40 x 60 mm.
Battery connector: JST-XH 2.54mm
Maximum sweep points (on device): 201
Maximum sweep points (USB): 1024
Port 2 return loss (1.5GHz): 20dB typ
Port 2 return loss (3GHz): 13dB min
VNA-QT software supported platforms: Linux, Windows (7+), Mac OS
The above specifications apply to the V2 Plus. For other variants (V2_2 and Plus4) see the user manual linked below.
Accuracy comparison between NanoVNA V2 and HP-8753E by DD1US
Basic usage
NanoVNA V2 Video Tutorials
VNA basics
A VNA (Vector Network Analyzer) measures the frequency dependent reflected and transmitted power of a high frequency network (RF Network).
The NanoVNA V2 measures the following:
Reflection coefficient: S11
Transmission coefficient: S21
The following items that can be calculated from these can be displayed:
Return loss
Insertion loss
Complex impedance
Resistance
Reactance
SWR
Required components
To use the NanoVNA V2 for one port measurements (e.g. antenna impedance), you will need the following:
NanoVNA V2 main unit
SMA cable, male-male
Calibration standards: Short, Open, and Load
Performing measurements
The basic operation and menu structure of the NanoVNA V2 is very similar to the original NanoVNA.
Configure the measurement frequency range:

Select STIMULUS > START and STIMULUS > STOP.

Calibrate:

Enter the CAL menu and connect a SMA male-male cable to port 1 of the VNA.
Connect the OPEN standard to the cable end and select "OPEN". Wait for menu highlight.
Connect the SHORT standard to the cable end and select "SHORT". Wait for menu highlight.
Connect the LOAD standard to the cable end and select "LOAD". Wait for menu highlight.
Select "APPLY". Calibration should now be active and you can start performing measurements.
Documentation
Firmware downloads
Use this table to select and download the correct firmware variant for your device:
Hardware versions
Software
NanoVNA-QT (PC software) releases:
https://github.com/nanovna/NanoVNA-QT/releases
NanoVNA Saver:
https://github.com/zarath/nanovna-saver
Schematics and PCB layout
The schematics and PCB layout files are available here:
https://github.com/nanovna/NanoVNA-V2
Permission is granted to use the design commercially and non-commercially without royalties. However, note that it is in your interest and everyone's interest to abide by basic business ethics.