NanoRFE VNA6000
Contents
VNA6000 (formerly NanoVNA V3) is a series of two port 6GHz vector network analyzers developed by NanoRFE/HCXQS offering performance comparable to higher end professional instruments in a small and portable form factor.
Existing portable VNAs weigh >2.5kg (heavier than a laptop; see table below). VNA6000 is the first VNA to reach professional level performance while weighing as much as a cell phone (300g), and is ideal for engineers on the go or working from home. VNA6000 can be used to characterize antennas, filters, duplexers, amplifiers, and more.
The improved measurement repeatability and low trace noise of the VNA6000 enables remote workers to complete most lab tasks without the logistics trouble of renting or sharing equipment, minimizing lost productivity.
Where to buy
Official stores
VNA6000 is only available from our direct store:
You are probably aware of the components shortage situation everyone is in right now, with many small businesses struggling to survive, as well as the flood of low quality clones becoming a major issue. We'd like to thank you for choosing to support us and supporting innovation by buying the original version!
Note: beware of clones of our older designs claiming to go to 6GHz but when tested are not able to measure accurately above 1GHz! To make measurements at these higher frequencies requires the entire signal path to be redesigned using RF rated parts and materials, impedances need to be tightly controlled, and all parts must be rated to handle the higher frequency, which adds significant expense. Even open source designs are not able to do it at below $300-500 BOM cost, and still have noticeable drift and repeatability problems. If you want useful and meaningful measurements, look for original NanoRFE analyzers!
Features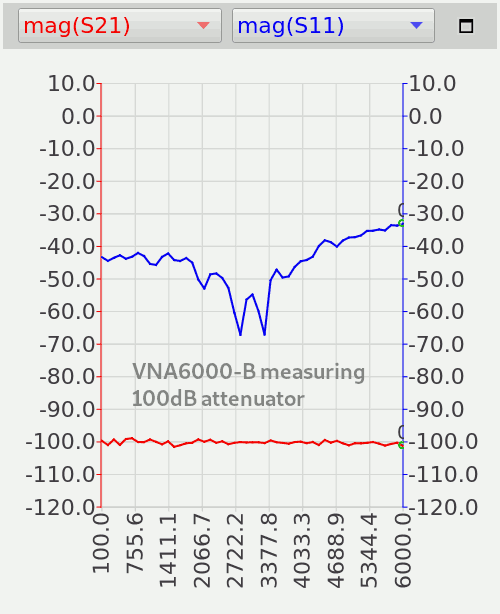 50kHz - 6GHz frequency range
Low drift

Built-in temperature compensation minimizes drift

High linearity
Improved measurement repeatability
High dynamic range

110dB @ 5.8GHz (VNA6000-B)

Adjustable IFBW

Enables optimal tradeoff between measurement speed and noise
Can measure narrowband devices

Can be connected to a PC (NanoVNA-QT software)

S parameters export
Custom calibration kit parameters
Advanced calibration methods
Automatic continuous data acquisition
Supports Windows (7+), Linux, and MacOS

Lightweight and easy to carry

Lower weight (300g) compared to other portable VNAs of similar performance (> 2.5kg)

TDR with millimeter level resolution
4 inch touchscreen
API allows integration with custom automated test setups
Feature comparison
NanoRFE portable VNA series
Other portable VNAs
V2 Plus4
V2 Plus4 Pro
VNA6000-A
VNA6000-B
KeyS FieldF
N9912A
Anr
MS2025B
R-S
ZNH4
Max dynamic range
90dB
90dB
95dB
110dB
72dB
100dB
100dB
Freq. range (Hz)
50k - 4G
50k - 4G
50k - 6G
50k - 6G
2M - 6G
500k - 6G
30k - 4G
Trace noise
Low
Lower
Lower
Lower
Lower
Lower
Lower
Sweep time
0.25s
< 0.2s
< 0.2s
< 0.2s
< 0.1s
< 0.1s
< 0.1s
Adjustable IFBW
✓
✓
✓
✓
✓
✓
Temperature drift compensation
✓
✓
✓
✓
?
?
?
TDR
✓
✓
✓
✓
✓
✓
✓
TDR resolution
9mm
9mm
6mm
6mm
6mm
6mm
9mm
Weight
300g
300g
300g
300g
2.8kg
3.5kg
3.1kg
Touchscreen
✓
✓
✓
✓
✓
✓
Buy
Official store
Official store
Official store
Official store
Example measurements
VNA6000-B
Documentation
User manual
Datasheet
Software
VNA6000 supports both NanoVNA-QT and NanoVNA-Saver software.
See Software downloads.
Firmware
New firmware releases typically contain bug and stability fixes. It is recommended but not necessary to update your device firmware to the latest version.
Version 20230711 (Latest version)
Updating the device firmware
Switch off the VNA6000.
Connect the VNA6000 to your PC using a USB cable.
Hold down ◀ and switch on the VNA6000.
Once white screen appears, release ◀.
The device should now show up on your computer as a USB serial port device.
Open NanoVNA-QT and select the device under the "Device" menu.
You will be prompted to flash a firmware binary, which you can download below.
The firmware update typically takes 5 - 10 seconds, and the VNA6000 will automatically reboot into the new firmware.
If the update process appears to be stuck, you can restart the update by repeating the steps above. Interrupting a firmware update will not brick your device, but you will need to flash the firmware again before the device will boot.
User groups / Forums
Discussion forum
https://groups.io/g/NanoVNAV3